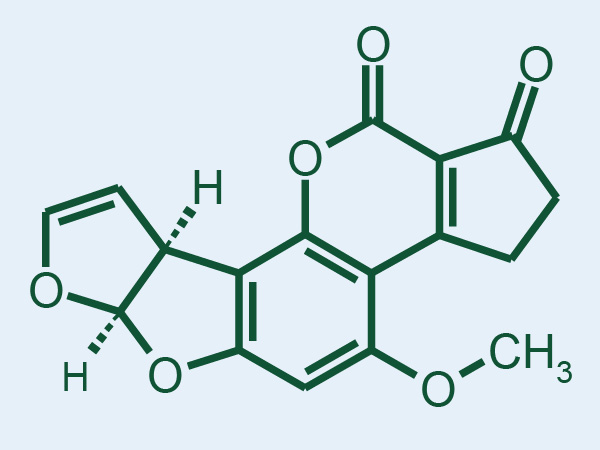 Aflatoxin is a mycotoxin produced by naturally occurring mould (fungi) found in the environment. The aflatoxin producing mould thrives best in humid and warm tropical areas, making Africa a conducive breeding ground for such moulds.
Aflatoxin-producing fungi vary widely in many characteristics, including virulence for crops and aflatoxin-producing capacity. Aspergillus flavus and Aspergillus parasiticus are most commonly implicated as causal agents of aflatoxin contamination. These toxins are carcinogenic metabolites that have a negative effect on the plants they contaminate as well as humans and animals that consume them.
In humans, aflatoxins have been associated with liver cancer, stunted growth in children, suppression of the immune system, and recent reports have linked aflatoxins to kwashiorkor (find ref). In 2004 aflatoxicoses (acute poisoning by the consumption of aflatoxin contaminated foods) took more than 125 lives in Kenya which is the most severe episode of human aflatoxin poisoning in history (ref).
Ghana has lost potential revenue from export of commodities such as groundnuts and maize and their respective derivatives, melon seeds (agusi), almond power, tiger nuts. In a 2015 report, Ghana faced a ban from the EU if the country is unable to reduce levels of aflatoxin contamination in such exportable commodities.
As part of GSA's core mandate to protect consumers and facilitate trade, the Authority is embarking on a sensitization project to catalyze and sustain an inclusive and transformative program by improving food safety and security in Ghana through increased knowledge about aflatoxins, its negative impact on health and commerce and options for its management.
THE NASAM PROJECT
The Alliance for a Green Revolution in Africa (AGRA) awarded the Ghana Standards Authority (GSA) a project support grant to carry out the National Aflatoxin Sensitisation and Management (NASAM) Project for two years.
The project aims to catalyse and sustain an inclusive agricultural transformation by improving food safety and security through increased knowledge about aflatoxins, its impacts and management.
It is expected that the project will:
Strengthen agricultural input systems, technology development and supply chain

Increase adoption of agricultural productivity enhancing technologies

Reduce impact of agricultural volatility
The Ghana Standards Authority in collaboration with the relevant institutions and stakeholders will organise national and regional workshops throughout Ghana with the view of sensitising/educating primary and secondary actors in the relevant value chains on the occurrence of aflatoxins and ways of reducing their impacts on consumer health and trade in general. In order to achieve these objectives, the GSA will utilize the following for optimum impact:
Production of video animations and documentary on aflatoxins and its management.
Television and Radio programs
Key messages and feature stories on aflatoxin management for social media.
Promotional Print materials on aflatoxin and its management
Media Training on effective and correct reporting on aflatoxins, its effects and management.
Workshops and extension service events
Articles in national newspapers on aflatoxins, its effects and management
Partnerships with private sector players to expand aflatoxin sensitization program
The project seeks to target 5,000 farmers and 2,000 value chain actors directly, and 600,000 households indirectly. The following are some targeted groups:
1. Smallholder farmers and Extension officers
2. Small and medium scale processors/manufacturers
3. Agribusinesses, buyers, and aggregators
4. Exporters and importers
5. Consumers
National Aflatoxin Sensitisation And Management Project (NASAM) Launch.
Day/Date:

Monday

,

2019-04-08
Venue: University of Development Studies, Navrongo Campus
Time: 08:30
E-mail Address: nasam.project@gsa.gov.gh
WhatsApp Number: 0553391767